Room "Maryse and Freddy"
Dedicated to the biennial exhibitions
A new exhibition every two years
The circus is in town

The world of the circus, with its magicians, acrobats, clowns and animals, shines through antique and more recent items in this exhibition
Don't miss HUMPTY DUMPTY's wooden toys (manufactured by this American brand between 1903 and 1930), PLAYMOBIL's ROMANI circus, the railway's trolleys from the circus SARRASANI, the automatons, the tin toys, CARL ORIGINAL's articulated monkeys (Germany 1960-1970) and many other SCHÜCO musical animals (Germany).
COROLLE Dolls' garden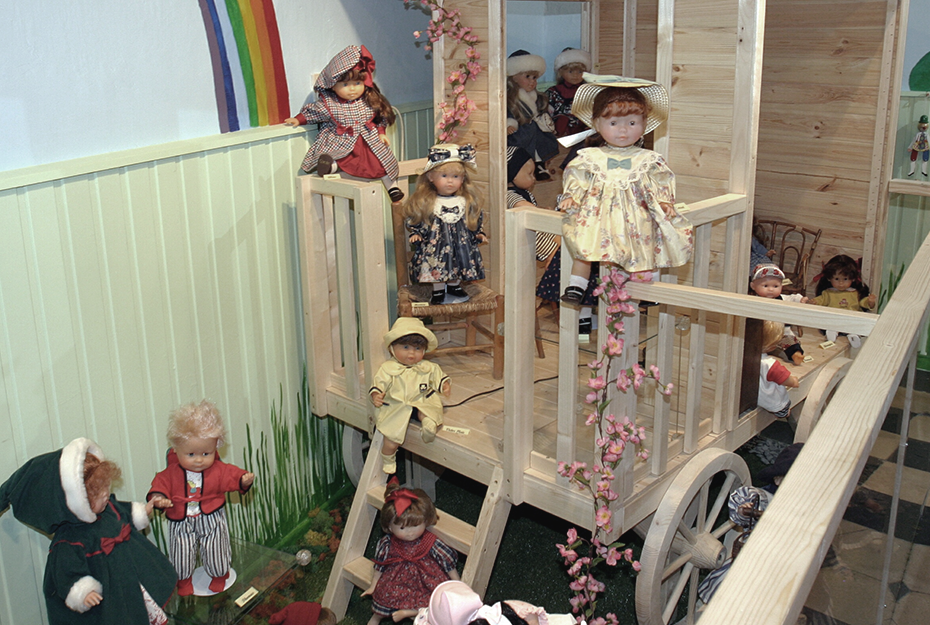 This pleasantly rustic caravan is sure to be the darling of every girl that lays eye on it. The same can be said for the COROLLE's items in the drawers under and in the showcase at the far end of the room. The French brand COROLLE will be celebrate its fortieth birthday this year.
Our sincere thanks to Mr André DEHANT, Educational Sciences Researcher and Professor Emeritus at Louvain University (UCLouvain), who donated a superb doll collection as well as others COROLLE items. These toys will star in our new exhibitions in 2019-2020.
Let us not forget the trunk filled with street toys from a time where the streets belonged to the children and not the cars. Yo-yo, diabolo, pogo, Jacobs ladder, cup-and-ball game, knucklebones, marbles, skipping ropes, stilts, etc…